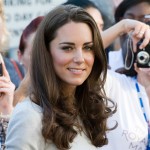 Kate Middleton's hair is one of the most asked for styles at hair salons across the world.  From Europe to the Americas, Kate's style long brown hair is admired across the continents.
So to, erm, celebrate the Duchess' luscious locks, I've made this picture gallery for you, full of Kate's different hairstyles (perfect if you're off on a trip to the hairdressers!)  Lots of pictures of Kate's greatest hair moments from the last couple of years.
I hope you like my Kate hair gallery.  Feel free to link to your favourite pictures of the comment section.  If anything, this gallery is just simply great "hairspiration" for those who need a little motivation to keep growing their locks long like Kate's.
Browse our Kate Middleton hair style gallery for inspiration.
Click any image to view the gallery FULL SIZE to see Kate's hair in all its glory:
Kate's hair looking AMAZING
Another great hair day for Kate!
Another FAB updo – one of my favs
A closer look at Kate's hair & makeup.
Kate's hair on St Patrick's Day 2012 and 2013
An elegant up-do
Hair comparison

Even in hot sticky climates, Kate's hair still looks fab
Kate looks amazing, even in the heat with garland!
Pretty pearl pins in her hair
Kate's hair looks fab in soaring heat!
Pregnant Kate pulled her hair into a side pony
Windswept!
OMG remember when Kate got bangs…?
Ahh, that's better.

Kate wore her citrine drop earrings to Slave Lake
Kate's hair in Canada
What to ask for at the hairdressers:
Kate's I'm lucky enough to have a great friend who is a hairdresser, so I asked her what I should ask for in the salon to copy Kate's look.
She said:
"If you wanted that 'cut' it looks pretty much one length to me with a tiny bit of gentle layering at the front and maybe a bit at the back so I'd ask for;

Mainly one length with soft, long layers at the front to create a bit of movement and shape around the face so it doesn't just hang.

If you wanted the 'style' with the curls you'd ask for;

A smooth blow dry with a bit of root lift to create bounce and then a soft, bouncy curl put in around the bottom lengths (only about a 1/3 of the way up the hair) with a large barreled tongue to create a nice frame for the face."
Big thank you to Lucy, who specialises in wedding hair and runs a mobile hairdressing service in Nottingham, UK.
Links:
Handbag.com have a couple of really useful 'Kate hair' articles for those interested.  The first is a look at 15 of her hairstyles with tips on how to achieve similar looks: click here to read.   The second article is an interview with Kate's hair stylist Richard Ward: click here to read.
Video Tutorials: