This afternoon Kate and William boarded their plane to Ottawa, Canada for the first leg of their first Royal Tour together.
Here's a great pictutre courtesy of the lovely @BBCPeterHunt:
Note the Canadian flag flying top left?
Kate's outfit:
Kate wore a navy blue dress, confirmed to be by French designer Roland Mouret and a navy blazer by Canadian designer Smythe les Vestes.  She finished her outfit off with a Mulberry Handbag and blue court shoes.
Kate's Blue Dress:
Kate's navy dress is called the "Manon" by French designer Roland Mouret.
The dress was out of stock on the Selfridges' website, but it is possible that Kate could have picked it up from the department store during her visit there with a personal shopper this month.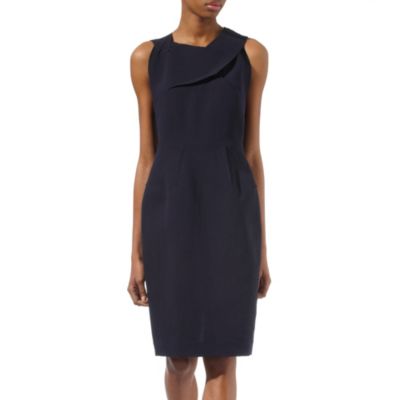 Want this dress?
The dress is still available from the fantastic MyTheresa website (which ships to all continents!)
Click to buy: sadly, it's only available in UK12 / US8
Kate's Blue Handbag:
Kate carried the navy blue Mulberry Polly Push-lock shoulder bag.
I haven't had this confirmed yet, but it is quite clearly the same bag:

Click here to see it in more detail on the Selfridges website.
Click here to view it on Harrods.com
The bag appears to come in three sizes, here I've displayed the normal size (left) and small (right).
Huge thanks to Grace who spotted that Kate carried the smaller size handbag, not the tote bag as I mistakenly identified (and as several newspapers then quickly published online!)  

Kate's Blazer:
Kate's Blazer is the Smythe Les Vestes One Button Blazer in Navy.
The navy blue blazer features a single button closure with two waist pockets and a chest pocket.  Like Kate's military jacket, this navy blazer is adorned with gold coloured buttons.
Thanks to Juzz & Chiara who managed to seek out Kate's blazer before me!
Want to buy this blazer?
It's still on sale in MyTheresa.com, which ships across the world! Click here to view.
Update: Smythe release a statement about Kate's Heathrow outfit:
The label designers behind Kate's navy blazer state they are "thrilled" to part of Kate's wardrobe for the Royal Visit:
"We design with a women like Catherine Middleton in mind: tailored and effortlessly chic.  Needless to say we are delighted that Her Royal Highness has included Smythe in her first visit to Canada."
Thanks for Tweeting this info @marilynsrylblog
Kate's Shoes:
The Telegraph are reporting that Kate wore Manolo Blahnik Calogera court shoes but we can't find any information about the shoe at present.  We'll update you as soon as we know more!
Please bare in mind that this post is a work in progress