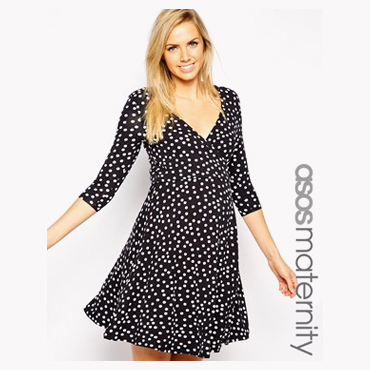 For a second time, Kate has turned to ASOS to dress her baby bump.  This time, the Duchess opted for the ASOS Maternity Polka Dot Dress.

The Duchess wore the dress for a visit to Home-Start's Brookhill Children's Centre in Woolwich.
About the ASOS Maternity Polka Dot dress:
The polka dot skater dress is exclusive to the ASOS Maternity line.  It is made from stretch fabric (viscose & elastane mix), features a deep v-neck wrap front and three quarter length sleeves.
Click the photo below to see the dress on ASOS' website, or use the social icons below to share with your friends:
Asos say the dress will fit through all stages of pregnancy (so I'm guessing non-pregnant repliKaters will enjoy the piece too!).  The brand describe it as "true to size" and has an "empire seam" design.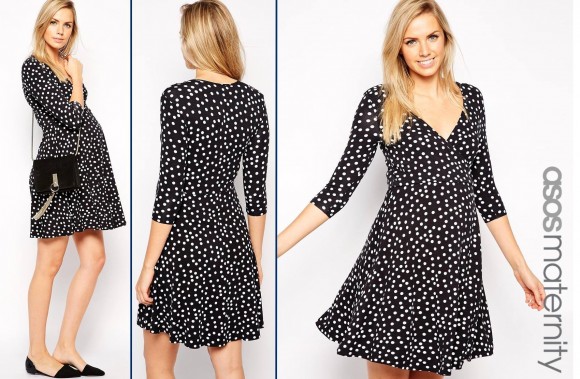 UPDATE: MAY 27 2015 –
The dress is available in all sizes at ASOS.  Click here to shop the dress.
Kate dresses her baby bump in polka dots:
It seems like pregnancy drives Kate dotty!  The Duchess has dressed her baby bump in polka dot print dresses throughout both of her pregnancies.  In addition to the ASOS Maternity dress, Kate has worn dotty dresses from Jenny Packham and TopShop: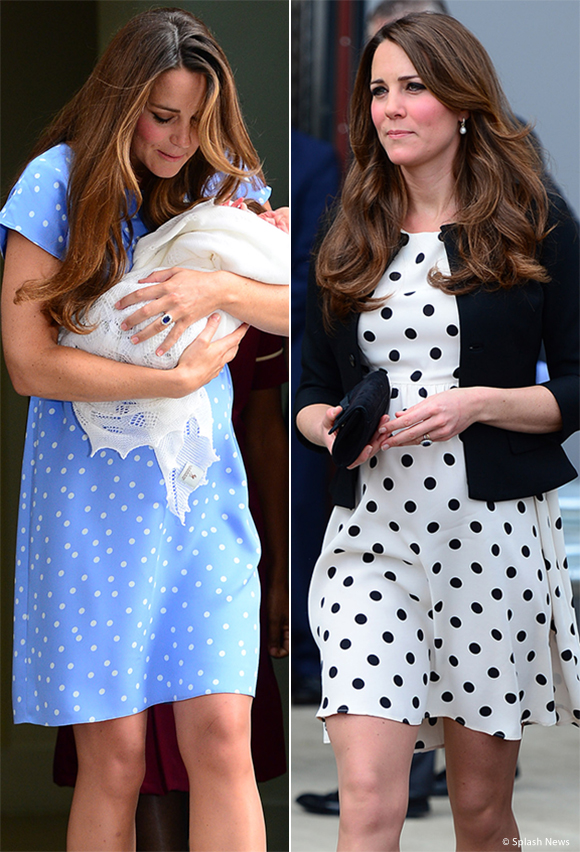 (Left: Kate wore Jenny Packham while introducing Prince George to the world!  Right:  Kate wears TopShop's polka dot skater dress while visiting the Harry Potter attraction at the Warner Brothers studio in 2013.)
Kate in ASOS Maternity:
Of course, Kate is no stranger to ASOS Maternity.  Back in 2013 she wore the brand's navy blue belted scoop neck dress.  The dress was popular and sold out quickly.  ASOS re-released the dress and renamed it the "Kate".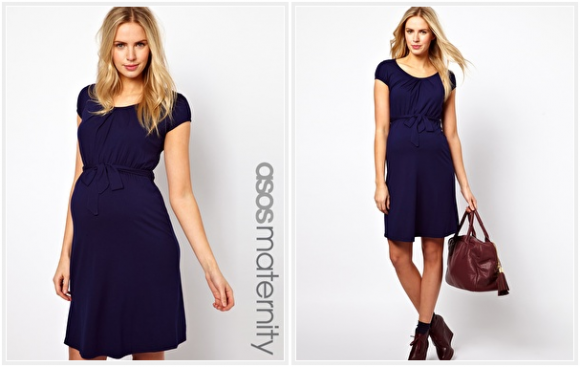 About ASOS Maternity:
ASOS Maternity will keep you chic throughout your pregnancy (as Kate will attest!)  Flatter your baby bump with gorgeous maternity dresses, jeans, tops, pants and more, cleverly designed to accommodate your new curves.
ASOS Maternity combines the stylishness of their mainline collection with pregnancy-friendly features such as soft ruching, adjustable fastenings and flexible waistbands, our versatile maternity wear is the perfect fusion of fashion, comfort and a flawless fit.
Shop ASOS: